Springtime Means Caddis Time!
Springtime Means Caddis Time!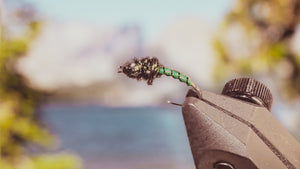 Green Caddis Larvae
Springtime is a special time of year for fly anglers.  The ice is retreating, the days are getting longer and most importantly, the fish (and bugs) are starting the get active.  Many of us in the West are often faced with a period of time, generally late Feb through early to mid  April, where the waters are gin clear and very cold, however, the trout are starting to get active.  It is in these cold waters that our first really important bug of the West calls home and that is the Green Caddis Pupa, or in scientific jargon - Rhyacophila.
The Green Caddis Pupa is a caseless Caddis that actively scurries around waters of the Western rivers.  This species loves clean and cold waters of the Mountain West and is usually the first real "match the hatch" pattern that I go to because they are abundant and I have found that as the ice is coming off, the Trout key into them with purpose.  The one common thing about this species is that they are almost always a bright green body (almost neon) with a dark colored head segment and it is this that makes them easily recognizable against other species.  
I always have this pattern in my nymph arsenal from size 10 through size 18.  These caddis generally range from size 12 to 14 but I have on occasion seen them up to size 8 and as small as 20, however, they tend to average in the 12-16 size range.  I prefer to tie them on a curved-shank scud hook with either a brass or tungsten bead to keep them deep and along the bottom.   These bugs are active this time of year so trout are used to seeing them but they are always along the bottom on the stream and as they float, they tend to curl up…..thus the use of the curved scud hook in tying patterns for them.
The pattern is very easy to tie and one can really crank out a bunch of them once you get going.  I would encourage anyone tying these to put the beads on the hooks first in order to really crank up the production.  Without further ramblings, here is the pattern and materials I use:
Ribbing: UTC ULTRA WIRE MEDIUM Black (only use wire on thread bodies)
Don't be afraid to play around with other materials either, however, the above is what I tie 90% of my Green Caddis Pupa with.  Tight lines!