New Sunglasses from Oakley and Smith!
New Sunglasses from Oakley and Smith!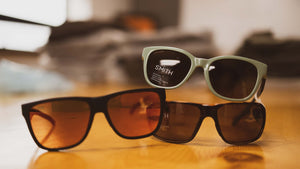 Naturally, as we all know too well, seasons change, and so do our apparel needs. As the four seasons follow one another, seasonal goods and activities differ. Smith Sunglasses work around the calendar to enhance contrast and natural color with the stellar Chromapop feature. All for where those good times may lead.
Whether taking a cruise up the mountain to gaze at renowned fall foliage or a perfectly crisp day testing out a freshly tied fly on the River, the polarized feature certainly adds definition to what the naked eye cannot see on its own. While on the water especially, glare and visibility are all too guilty of being a nuisance. Thankfully, the Castaway optics not only offer the classic look to boot, but it remedies all of those glares the water throws back at anglers. When it comes to how we see the world, obnoxious glare can become a visual watermark on what makes moments particularly special.
On top of that, setting significant intent on quality over quantity is a huge factor in deciding what frames and lenses will hold value and withstand the test of time. This is where the decision to purchase the "Caper" style can be made incredibly simple. As with all Smith sunglasses, the Carbonic lenses are essential for those days where impact takes its natural toll. All while maintaining clear optics. Gratifyingly, the lightweight materials used alongside the clean vintage proportions complete the ideal women's look for any active lifestyle.
Reflections are a true telltale sign of where we have been and where we are going...unless eye strain interrupts a moment of fore-seen clarity. Suggesting there is only one genuine act of crime behind sunny days: reflections. Before breaking into a sweat just yet, not only does the Lowdown style halt unwarranted reflections in their lenses. The bio-based frames are accommodated with rubber nose pads for the ultimate "get a grip" feature.
With a purchase this practical, fitting all needs when paired with a look that exudes confidence, where can one go wrong?
Click here to shop all the new styles!