GRANDAD'S FLY ROD: STILL HAS THE MAGIC
GRANDAD'S FLY ROD: STILL HAS THE MAGIC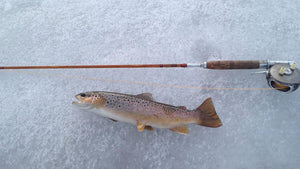 By Josh Masek
Written in 2014 right after Josh moved to our amazing Lander, WY
Ok… I know what you all are thinking… "Another stupid Fishing picture!?!"… Yes. Another fishing picture. I know I've been posting a lot of these lately, and I am truly lucky to be able to do what I have been doing in this amazing new place since I've been here. So many new things to see and do that I still haven't been able to wrap my head around everything. One thing that I have learned is that I love to be outdoors. Away from everything and everyone, and just BE.
So yes, I spent another amazing afternoon alone, without anyone to be seen, wading the clear, cold waters of the Popo Agie River. While this beautiful Brown Trout is not one for the record books, it is one that I am very proud, humbled even, to have been able to land. It's not the biggest fish nor the best fighter I've come across in my new home, but one that inspired, and one that mattered.
I had a moment. The sun was setting in the West over the Wind River Range. A mild evening, uncommon for December in these parts, and me with a trout on the end of my line. However, what made this special for me was that it wasn't my normal fly hucking stick. It was my Grandpa's… stored away and forgotten for probably 50 years or more, and newly revived in my amateur hands.
I found the rod while cleaning out the garage at my folks' house over Thanksgiving. While old and outdated, (and inadvertently placed in the "Toss" pile) the RS Elliot Bamboo rod was in pretty good shape and looked like it might just be worthy of use. After rummaging around my dad's old blue tackle bag, I found its counterpart; an old 1950's Ocean City Automatic model 90 fly reel, complete with line and nylon leader. While the line was ancient, it still floated, though the leader was too brittle to make a steady loop knot (thanks for the help with the new knot, Bob Reece).
After several practice casts in the backyard, I figured it'd be worth a shot at the local fishin' hole. It took me a little while on the river to get the feel for the "new" rod, but quickly found my rhythm. The slow action of the bamboo was a little foreign after using the fancy-pants new materials we're accustomed to these days, but it was a joy to hurl after a few trial runs. It seemed the Olive Woolly Bugger went exactly where I intended, and father than I imagined it could.
I dabbled in several runs and pools without luck, and moved up the river, toying with my new outfit. It wasn't until sunset that I felt the tip bow on a slow, strip-pause-strip retrieve. Fish On! The old Ocean City picked up the slack in short order, and the flexible bamboo rod bent against the pressure of a feisty Brown. That was the moment I was seeking. After a short, hard run, my Grandpa's rod was able to turn him quickly and bring him into netting range in.
I felt like a million bucks upon landing a less than average fish. At that moment, I thought about the innumerable other larger and more impressive trout that this particular rod and reel had fought at the hand of my Grandpa. I considered myself lucky to be able to partake in the same joy and elation he must have felt generations ago with the very same instruments. I also thought about my family, my friends, and everything that lead up to that single, mediocre fish on the end of that line, and it absolutely blew me away.
I'll try again tomorrow, but I can't help but feel a swelling pride to be able to "Do it like Granddaddy did", and feel like someday I'll be able to measure up to what he and others like him have done before me.