Best Flies for Fly Fishing in Wyoming - 2022
Best Flies for Fly Fishing in Wyoming - 2022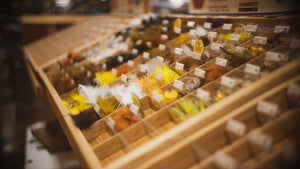 Wyoming is home to 27,000 miles of rivers and streams, with over 4000 lakes and 14 reservoirs that house over 22 game fish species. With those attributes, it is no mystery why it is known far and wide as having some of the best fly fishing in the Lower 48. The opportunities are almost endless, and it would take someone a very long time to even put a dent in those fishing opportunities!
Many people ask what fly patterns they need to have in their fly box given those numbers. While it would seem that an angler would require thousands of patterns (and it doesn't hurt to have a lot), there are a baker's dozen that we recommend not leaving home without restocking your box. Each one is listed below:
Dry
Parachute Adams - a deadly pattern for mimicking the BWO or Trico hatches. Fish will eat this with little hesitation in most waters, and it has proven itself to be a "go-to" pattern for decades. Size 12 through 22 is suggested.

Yellow Stimulator - another oldie but goodie. I like the yellow version as this is the predominant color for the Golden Stone and a good number of the caddis species that frequent the waters of Wyoming. Fish it big and small but know that this pattern is a must. Sizes 6 through 18

Morrish Hopper - one of the best hopper patterns as it floats low on the water surface, yet it will never sink due to the foam construction. It can take a beating and actually get better after fooling a couple of fish. Never leave home without this pattern!

Fat Head Beatle - my secret weapon. This fly is responsible for more big fish than just about anything I have thrown. This is my go-to pattern when fish get spooky and selective in mid-summer through early fall—sizes 12 and 14. Trust me; you will need a good number of these!

Parachute Ant - from the valleys to mountain tops, Wyoming is home to many ants! If you don't have a supply of these parachute black patterns, you will miss out on some action. Sizes 10 through 18
Nymphs
Bead Head Pheasant Tail - Wyoming is home to a lot of BWO's and the BH Pheasant Tail is a great pattern for these either in the spring or fall. It can be tied/purchased with several different colors in the abdomen, but we prefer the all-natural and olive/brown colors. There is good reason this pattern has been around for so long. Sizes 12-20

Rubber legs - Big fish eat big food, and this one pattern fits the bill. Wyoming has a good population of stoneflies and crane flies. Fish this pattern deep and slow! This pattern might be responsible for your next 24" brown!

Hot Head Sowbug - Wyoming's tailwaters and high country lakes are loaded with freshwater shrimp and sowbugs. For years, we have slaid fish on a tan soft hackle sow bug with a bright orange head. When we fish the Big Horn or Platte River, this is our go-to pattern in almost every situation! Size 10-18

Zebra Midge (Black) - if you are fishing midges, then you need to have your head examined. Midges are the highest biomass of any insect group on any water, and having a good stock of black Zebra Midges will pay off handsomely for you. Sizes 12 through 22.
Streamers
BH Leech - another go-to fly for me in guiding and fishing independently. Leeches are common, and trout relish them everywhere around the State. Some of my biggest fish ever have come to hand with a small, bead-head leech in black/olive. Size 6-14.

Kreelex - this is a newcomer to this list, but for good reason because trout seemed obligated to hit this creature. I really like the copper, gold, and black combo. This pattern is durable and will handle fish after fish but remember, fish it on some stout tippet because Browns will hit this pattern with reckless abandon! Size 6-12

Micro Bugger - Another version of a leech or perhaps a damselfly. In any case, you need them because they work. I fish this pattern a lot on the Green River in SE Wyoming. I fish it deep, slow and dead drift it with no stripping action - just let the current do the work. There are a lot of crayfish there, and I think this is a good pattern for them. I fish this primarily in size 10 and 12 but have gone down to size 16 on them too! Colors range from black to purple and light tan.

BH JJ Special - deep from the archives with this one. Even better is this pattern sports the Wyoming Cowboy colors of brown and gold. This is my go-to fall streamer, and it seldom has a slow day. I have fished them big (size 4), and small (size 14), and they have all worked. Cast straight across, strip it, let it swing, and hold on! Damn...this just gave me goosebumps!
These patterns are tried and tested over the years and work in every water I have come across in the chase for trout. While having more patterns is never a bad thing, having these patterns in your box should make any angler confident that they can handle almost any situation they encounter. Best of luck and tight lines! WROC.